Ko Samet - Beaches



The passenger boats depart regularly from Ban Phae on the mainland. They will take you to the east coast of the island, but the distances are short, so the car trip from the ferry pier usually only last a few minutes.

The beaches on the east and northeast of Samet is by far the most popular and visited ones. Many people would probably describe them as the most beautiful ones on the island.

The beaches on the south side of the island are the least visited. Moreover, the range of restaurants and shopping is very limited. They are an alternative for those who are looking for a holiday in peace and quiet.

The west side of Samet is more hilly, but here you find a nice beach called Ao Prao.




Hat Sai Kaew


Hat Sai Kaew (or Diamond Beach) is the longest and probably the most popular beach in Ko Samet. It is situated in the northeast and it is 780 meters long. This is the destination you should choose if you want to have some people and activities around you, but also live next to an almost paradise-like beach.

The sand is almost snow-white and the water is invitingly green-blue. You will find a number of cozy restaurants and also a few beach bars here, as well as high class accommodation along the beaches.

If you get tired of sunbathing, there are other activities available here such as: windsurfing, jet-skiing, snorkeling or riding a banana boat after a motorboat, maybe followed by a refreshing fruit juice drink or cocktail in one of the beach bars.

There are a few restaurants on this beach that we would like to recommend. These are:

Khun Korn Restaurant - Offering both Thai and western food. Fresh seafood is also found on the menu.

Ploy Talay Restaurant - A great place for eating seafood. A big and pleasant restaurant situated in the middle of Saikaew beach.

Zea Brezz Restaurant - Thai food, including seafood, for a reasonable price.

Silver Beach Bar - A bar offering drinks and simple meals. It attracts mostly young people.

Tok's Little Hut and Restaurant - Thai food in the restaurant and huts for rent.

Naga Bar - Have a drink and some food and enjoy a Thai boxing show as the same time.

Reggae Pub 2 - Opposite the Naga bar and next to the post office.

Kit and Food Restaurant - Situated close to Ploy Talay Restaurant. Here they offer Italian food and various seafood.

Sai Kaew Restaurant - A more exclusive dining experience. They offer western and Thai food. Great location and view.

Escudo Fine Dining and Pub - Exclusive dining. After dinner you can enjoy your time with your friends here.

No Name Bar - Located in the end of Sai Kaew beach on the North side. The style is relaxed and friendly.

Gourmet Coffee - Offers Thai and western food and good coffee on the menu. The place is located on the way to Sai Kaew Beach, close to the National park.




THE GIRL AND THE SEA - Photo by Jens W, Yenit.com

Ao Vong Duan


Ao Vong Duan is a 500 meters long, crescent moon shaped beach which offers a fabulous sunrise. The sand is as inviting as on Hat Sai Kaew and the calm atmosphere here is really pleasant. If you are looking for somewhere to relax and spend your wonderful holiday, here you are!

Ao Vong Duan is the second longest beach on Koh Samet. Along the beach you find many different and first class seafood restaurants which also offers a stunning view, overlooking the Gulf of Thailand. There are not so much Thais tourists here,most are foreigner here. The end of the beach are a lot of stone ,so we don't recommend to swim here.

The restaurants we would like to recommend:

Sea Horse Restaurant - Thai food and western food. Fresh seafood.

Samed Cabana - Both Thai and western food. Prices are reasonable.

Wong Duan Restaurant - Thai food and some basic western food.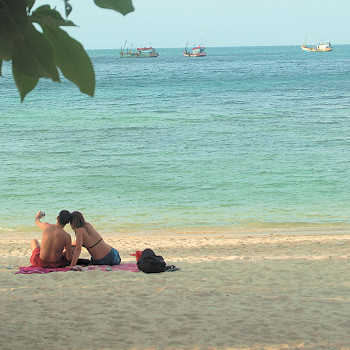 A COUPLE RELAXING ON THE BEACH - Photo by Jens W, Yenit.com

Ao Prao


The only beach on the west coast of Samet is a real beauty and only a few hotels are located here. The beach is about 200 meters long and very pleasant. Since the number of tourists are still finite, Ao Prao is a real world class destination if relaxation is an important factor during your holiday.

The sunset seen from Ao Prao is, on a clear night, a memory that probably will last for a lifetime.




Ao Phai


Ao Phai is located near Hat Sai Kaew but both beaches are separated by a rocky outcrop. The beach is about 400 meters long and along the beach you'll find relatively cheap hotels and accommodation. Some nice seafood restaurants are also located here.




Ao Phutsa


Ao Phut Sa is a small bay which mainly attracts tourists who want to get away from the larger beaches. With its fine sand and clear water Ao Phut Sa an excellent alternative to the bigger beaches if relaxation is high on your personal agenda.




Ao Prakarang


This beach is a suitable candidate if you want to get an idea of how the locals are living their daily lives. There are also a number of small restaurants along the beach, which offers fresh fish and seafood.




Other Beaches


On the east coast you will find these beaches (apart from the ones that we already have mentioned): Ao Tubtim, Ao Wai, Ao Tawan, Ao cho, and Ao Klew Na Nok.

On the North coat you will see Ao Luk Yon, Ao Pa Cha and Ao Noi na. At Ao Noi Na, you will see more local people who have their own fishing boat. The beach is quite long,but there are fully of the fishing boat,so it is not so good for swimming. This beach would be good for you to see and learn how local people do for their living. There are many nice resorts and bungalows close to this beach as well.

These are nice, short beaches all of which have the the characteristic, white Samet sand. The distance between these beaches are not far, so you can easily take a walk or a short ride with a bike. In general, the further south you go on this island, the fewer tourists you will see.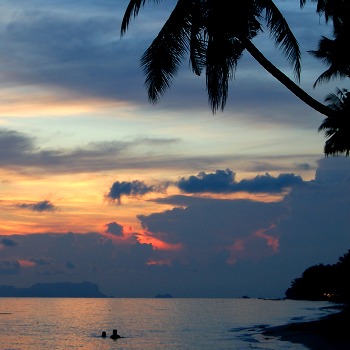 A COUPLE SWIMMING AT SUNSET - Photo by Jens W, Yenit.com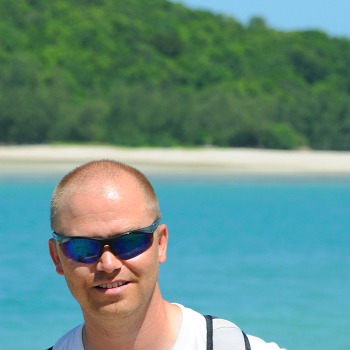 WAITING FOR THE FERRY - Photo by Jens W, Yenit.com